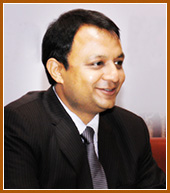 1st October, 2019
EICMA would like to wish all its Members a blissful Festive Season and a prosperous business and family life.
Friends, baro mase tero parban!
In India, thirteen festivals are celebrated in twelve months, and our own Bengal is forerunner.
In this regard, now we are celebrating the biggest festival of Bengal – Durga Puja,
a celebration of Shakti and Bhakti and symbolises our inner struggle to rise to higher levels of consciousness. Let us pray to Mother Durga, who epitomises female dynamism that she guide us in the path of righteousness and blesses our land with peace, happiness and prosperity.
Speaking on behalf of all our Members on this auspicious time of the year, I request and encourage everyone to find the positive energy & blend it to build a stronger foundation for EICMA, for Today & Tomorrow.
Our Membership strength is continuously growing & with your continued support, we are sure to touch the 250 Members mark before our 2020 Conference, scheduled in December next year.
At present, GDP growth in India is decelerating as we are at 5% from 8% a year back.A few days back, the Ministry of Commerce and Industry released numbers showing that growth in core sectors of the economy had slipped to 2.1 per cent during July as compared to 7.3 per cent during the corresponding month last year.However, it was calculated that Durga Puja in Bengal only has the budget of Rs. 25,000 - 30,000 crore with a compound annual growth rate (CAGR) of about 35 per cent. This has all the capacity to revive our consumer confidence.
Besides, this time, environment is also an important aspect to be fulfilled. Our Corrugated products are "Green" by all aspects. We should continue to promote & propagate the same. This time, the Government has also asked to stop the single-use of Plastics, which I'm sure is a very good sign for our Industry in years to come.
On this positive note, I wish you all a
Shubho Bijoya & Happy Diwali.
Regards,
Mohit Bajaj
President